Vision Board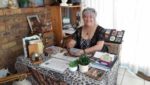 Let Me Read You
I begin with a Tarot Reading, I explain that I use the cards to look at the energies around you and your situation, with the aim of helping you to take control of things and feel more empowered in your life choices.  I don't believe Destiny is set out for us in stone.  We can and do influence and change things daily.  This is why I don't read your cards to tell you your future, as much as to help you create it for yourself.
If ever I do see something we cannot change, we will look at how you can tackle it and get the best outcome possible for you.
I also do Spirit Guide Psychic Drawings – please contact me to find out more.