When Toni Marcos asks if I might listen for her son Andrew in spirit, I am happy to oblige. He has been in my thoughts a lot lately, so I am not surprised to hear it is his birthday tomorrow. Andrew first came to me six months after his passing at age 18. Tomorrow he would be 25. Has it really been six and a half years since his first visit?
Pen and journal in hand I invite Andrew to step forward sensing his joyful energy with me. There are times when he arrives with urgency in his communication asking that I contact his mom right away. Today, I feel as though I reach through molasses to pull each idea forward from the ether. One by one through the mist the ideas emerge while I jot questions to Andrew in my book. "Do I see a wharf…a mug…a friend?"
A week has gone by when I reach out to mom: no urgency in Andrew's heart this week but today a nudge to talk about his visit. Toni is online and we begin the dance of share and confirm. Have I lost my touch, or will these images have specific meaning?
My initial vision is du
al coloured. On the right is a sun-bleached light-coloured wooden wharf. I stand on the wooden deck, peer through a wooden slat railing, glance left to see wooden steps lead down to a beach not too high off the sand. The shore stretches into the distance. The left-hand side of the vision holds a deep blue colour. I know this colour symbolises the ocean.
Toni sends this photo. "Is this it? You have to walk down wooden steps to get to the beach." She has just booked a 5-day vacation at this location. Toni tells me, as she booked the holiday she mused about how much Andrew would love it. She felt sure Andrew would join them in spirit.
The second set of images is of two men with fishing rods walking up onto a wharf from where they had been fishing. Toni explains on the day of his birthday, Toni took a trip to a Marina near their home where she used to drop him as a young man: a place he would meet his friends to go fishing. Andrew is letting his mom know he was reminiscing with her in that moment.
The next scene that plays out is of two gentlemen of similar build. They seem to be in a kitchen that has a high table and tall bar type stools. They hold glass mugs in their hands, (are they beer stains?), with a large cool drink (not necessarily beer). Can I see the beach in the background through a glass or open door? The room also has tall, almost floor to ceiling windows next to the door overlooking the beach (?). T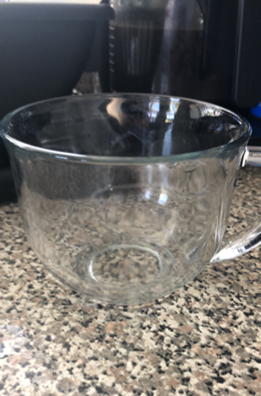 he two men clink their glasses together as though giving a toast to someone. A toast to whom? I think one of these men is Drew, Andrew's father. I want to say the second is Toni's brother, but I know he has passed. We are not able to make a connection to beer stains, but when I ask if Toni has glass mugs with handles, she sends this photo from their family dinner set.
Andrew shares the image of a woman's hand holding a rosary. The cross of the rosary is hanging down over the edge of her hand as though she is displaying it to me. I see the beads are a mix of gold and brown beads, where two lighter coloured beads are
situated above the V of the string. Andrew seems to indicate his aunt is holding the rosary. I am surprised to hear Toni say she has recently given a rosary as a loving gesture to someone she knows: the colour gold was present in this rosary. Toni tells me she does her best to emulate Andrew's kind gestures and had him in her thoughts as she gave the rosary to her friend. I was sure it was Andrew's aunt, not his mom. However, the image of rosary is important. We celebrate his knowing.
Andrew indicates his mom has a special treat for his birthday. I can't tell, through the mist, if it is a cake or a cookie. I am quite puzzled at the small size until Toni sends a photo of this cupcake! Haha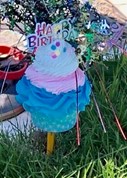 The next idea is confusing. I am not clear what Andrew wants to show me. There seems to be a stick on the table with a white paper attached to it. Is this a rectangular 'flag'? I notice it is 'paper thin' and lying flat on the table. What is this stick and white paper all about? The next photo Toni sends has my jaw drop open. Toni is at a Confirmation for Andrew's younger cousin.
Look what is on the table! Not a stick but a cross on thin white paper lying flat on the celebration table. Andrew lets us know by this imagery; he is with her on her special day. As part of the celebration, Andrew's aunt gi
ves his cousin the gift of a very special rosary…It belonged to their Uncle, now in spirit. Rosary imagery is the perfect symbol to let Toni know Andrew is nearby. Perhaps the two men giving a toast are Andrew and his Uncle?
Andrew's earthly girlfriend lives close by to Toni. I see her wave to Toni as acknowledgement of Andrew's Birthday. Toni says she did reach out on his birthday to tell Toni she was thinking of her. I could also see Andrew's friends contact Toni to wish her well on his birthday. She says this is also true.
Andrew has a message to share with his mom. He says,
Rolling up the pant legs
Standing in the water
Casting our lines
Those were the days…
Do that,
And I'll be right with you
Every single time
The best days were always the family days…
Be ready to receive the hugs
I'm waiting here to share
Till then,
Let's meet in your dreams
Where the distance between now and then
Fades to nothingness
In the wake of
Dreams come true
I'm only a blink away
A wink away
The sand man is coming
To bring me to you
Rest easy
Knowing I love you dearly
Your son,
Andrew
And Mom!
I'm still your boy!
~
On reflection I understand why Andrew's visit seems to appear through the mist. The series of events portrayed were yet to come! Mom's visit to the Marina where Andrew liked to fish, the holiday resort at the beach, his aunt's gift of the rosary, the cupcake, various hellos from Andrew's friend, the Confirmation celebration with precious symbol in the form of a cross––none had happened on the day he came to me. Had I spoken to Toni of them the day before his birthday, the events would have left us in wonder. 6 days later and everything makes perfect sense. What a gift he gives in having us wait to communicate with each other.
Thank you, Andrew, for appearing for your Mom sharing such beautiful stories that show you are always nearby.
I know myself blessed to dance with you in this way.
Love to you all!
Catherine ~
Spiritual Medium Catherine ~ On Spirits' Wings
Catherine's work as a conduit for spirits through Mediumship is deeply spiritual in nature. When you 'Ask Spirit' questions from your heart, Catherine will channel inspirational messages from the spirit realm via automatic writing to address your inquiry. Animal spirit medicine, as well as descriptions of love, light, colour and energy underline her desire to work, always, toward the Highest Good of All.
Catherine shares her work with Spirit via social media, and has received praise from around the world. Join Catherine at http://onspiritswings.com, www.facebook.com/onspiritswings, and https://www.pinterest.com/onspiritswings/ for Spirit channeled inspiration, soulful stories, animal spirit medicine and more!
Email Catherine at onspiritswings@gmail.com